CLOUD INFRASTRUCTURE MANAGEMENT
Designing, deploying, monitoring, supporting, and optimising your cloud or hybrid IT infrastructure are all part of cloud infrastructure management. Manin ensures high performance, availability, and scalability of cloud infrastructures through dedicated management services.
WHAT DOES CLOUD INFRASTRUCTURE SERVICES INCLUDE?
Observance of industry standards
Management of the CI/CD process.
Management of the reporting process.
Plans for improving cloud infrastructure
Efficient IT service delivery
Compliance reports are generated based on compliance assessments.
Regular transparent reporting
Reports on health checks
Reports on security audits
Incident reports that include a root cause analysis.
Regular service level reports are provided.
CLOUD INFRASTRUCTURE SERVICES HIGHLIGHTS
We frugally plan your cloud migration and take the quickest routes to market while assisting you in selecting the cloud platform that best suits your requirements. We also make use of the managed PaaS environments and embeddable functionality provided by a cloud vendor to reduce development costs and effort.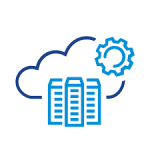 We create microservice designs and give containerized services top priority in order to optimise cloud usage and guarantee infrastructure scalability.
Automation on multiple levels
To reduce cloud consumption overheads, our DevOps teams use the IaC (Infrastructure as Code) approach to automate cloud infrastructure setup and management, as well as scheduled or reactive cloud resource autoscaling.
Managed Services by AWS
Your AWS infrastructure or AWS-based SaaS apps are monitored, managed, and improved by us.
Using the optimal cost-performance approach, we build, implement, or migrate SaaS products and IT infrastructures to AWS.
Managed Services by Azure
We employ a practical approach when designing, deploying, or migrating SaaS apps and IT infrastructures on Azure.
SaaS apps and IT infrastructures powered by Azure are managed and optimised by us.
Infrastructure management for Multi-cloud
We create a customised multi-cloud architecture that balances performance and affordability.
Your multi-cloud setup is set up by us, and we guarantee its effectiveness and high availability.
WHY MANIN IS A TRUSTWORTHY CLOUD MIGRATION CONSULTING PARTNER
A substantial pool of Cloud certified professionals, such as Cloud Certified Solution Architects and Cloud Certified SysOps Administrators.
Microsoft's Most Valuable Professional Award – 3rd time in a row!!!
We hold Guinness Record (Microsoft App Fest)
We are consistently ranked as top 0.05% developers in Stack Overflow
We are the Core Team of Google Apigee
350+ Successful Projects Worldwide
Excellent Client Review / Portfolio
15+ Years of Experience
Worked with 150+ Companies Worldwide